PK26
PK26 is a high-performance multifunctional outdoor led flashlight. The dual light sources design takes care of distance and nearby illuminations. Runs on two 26650 Li-ion cells, it emits a max 22000-lumen output and delivers a max 550 meters throwing distance. Balance in size and weight, with IP68-rated protection, it's an ideal lighting device for searching, rescuing, hiking, camping, etc.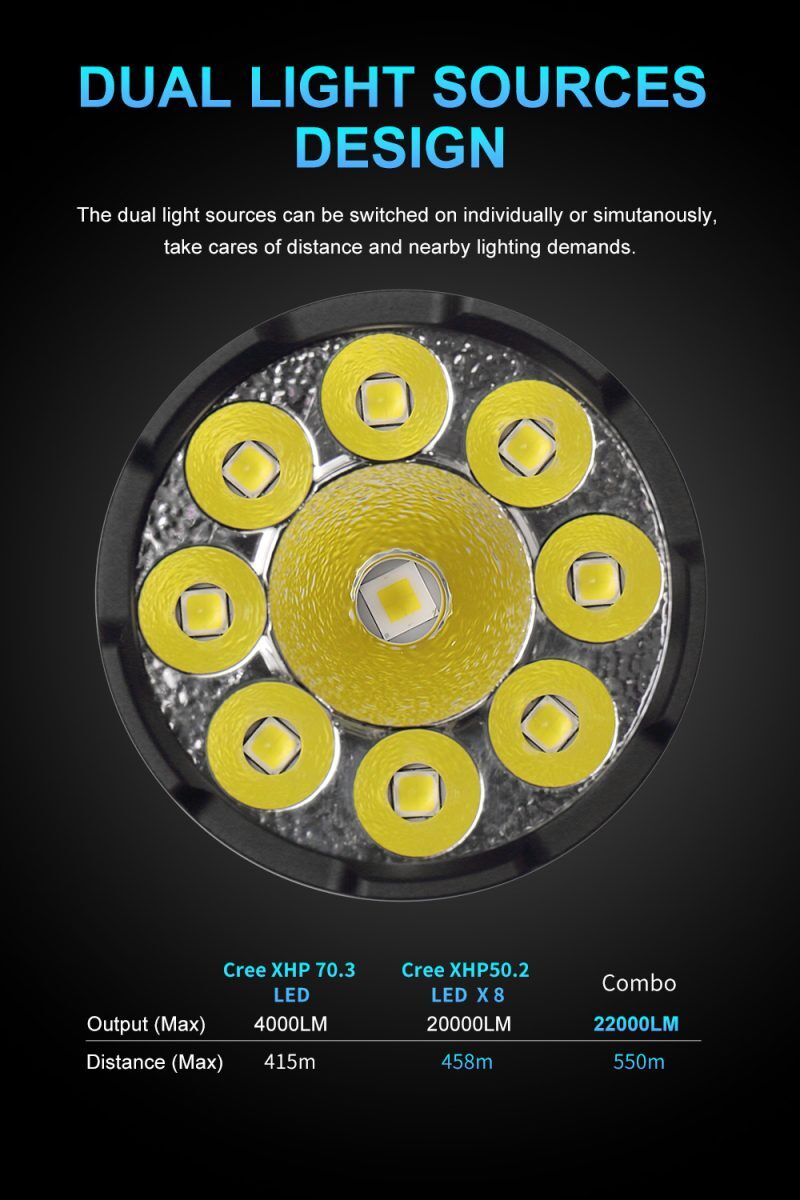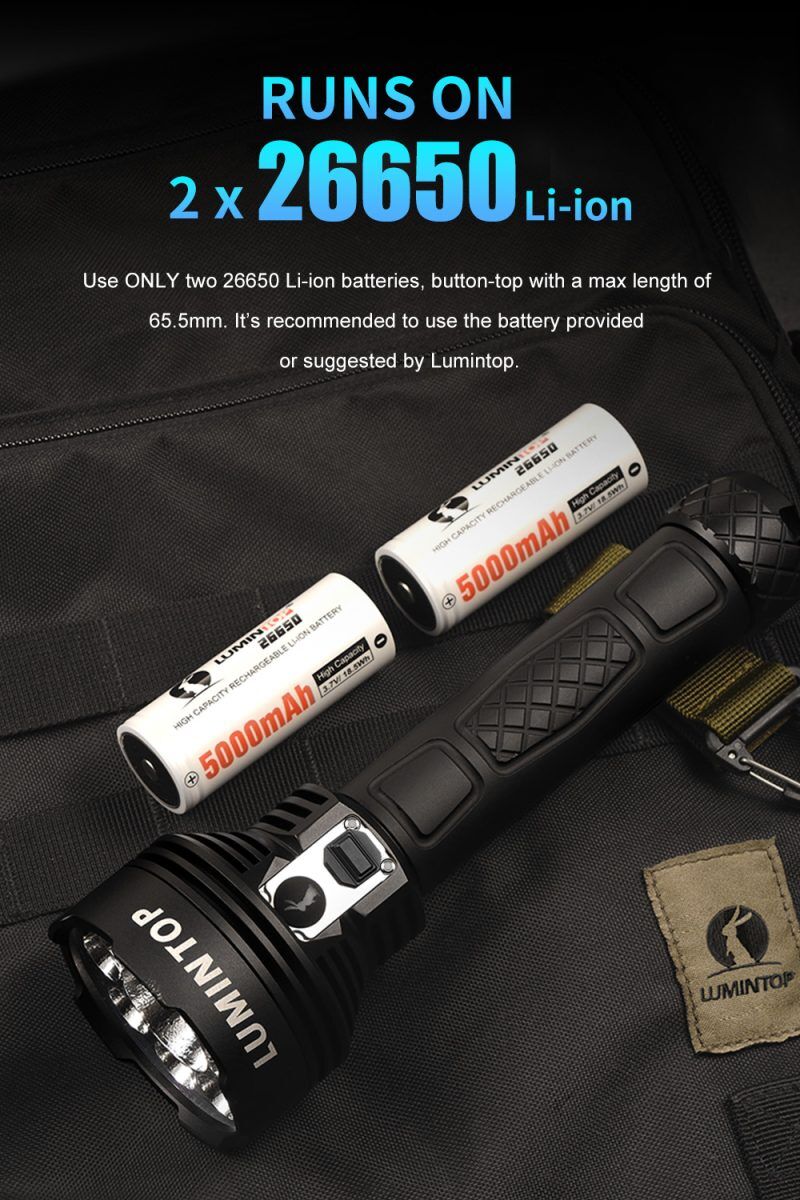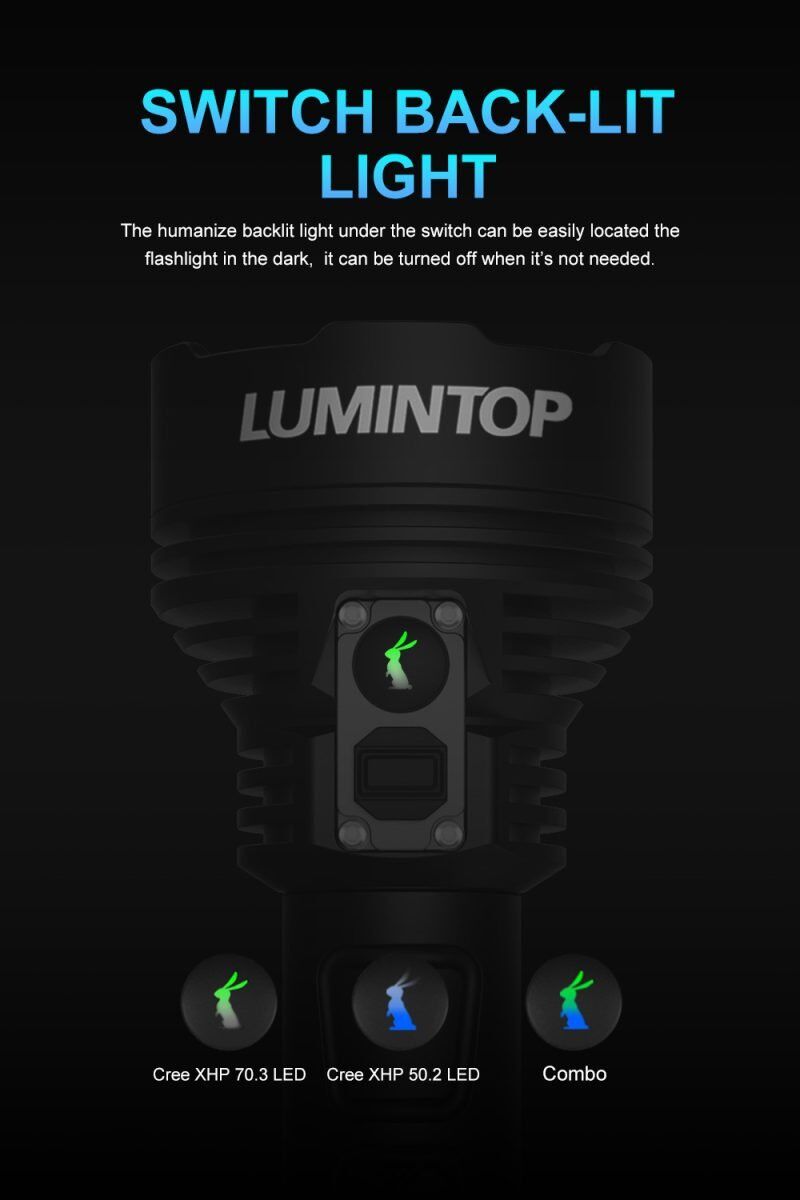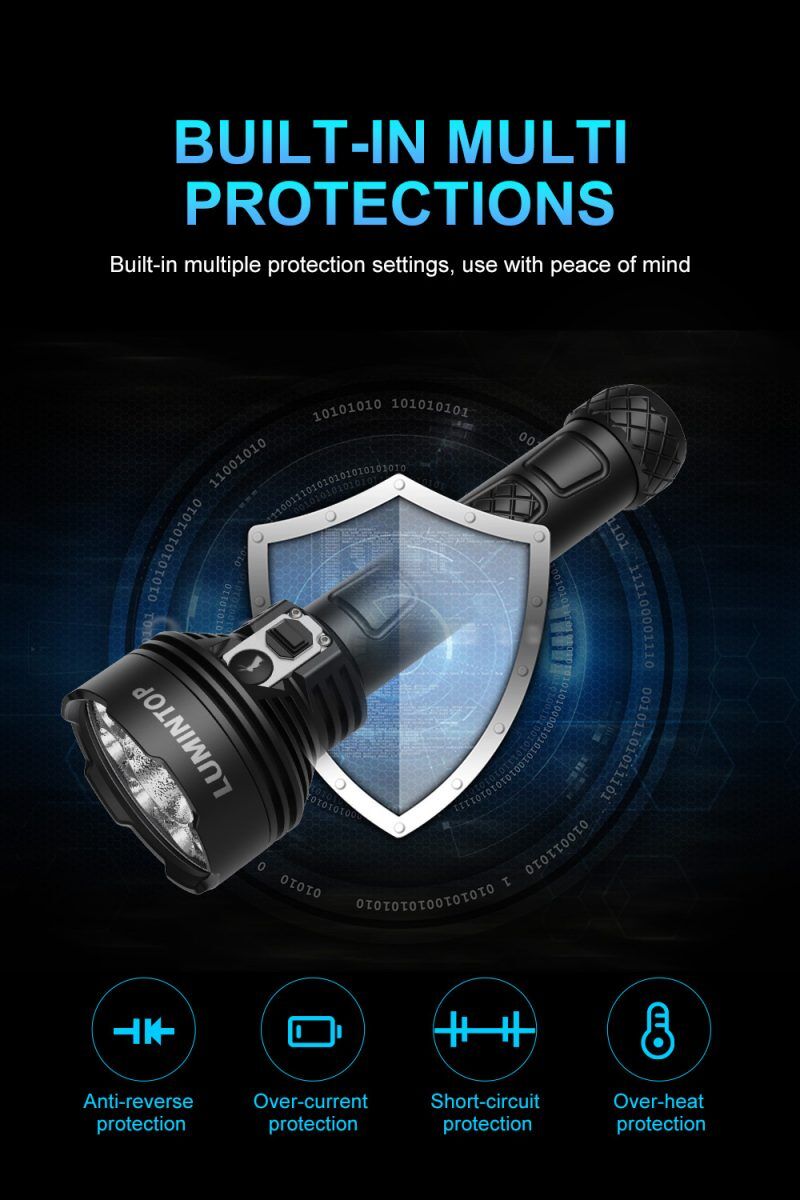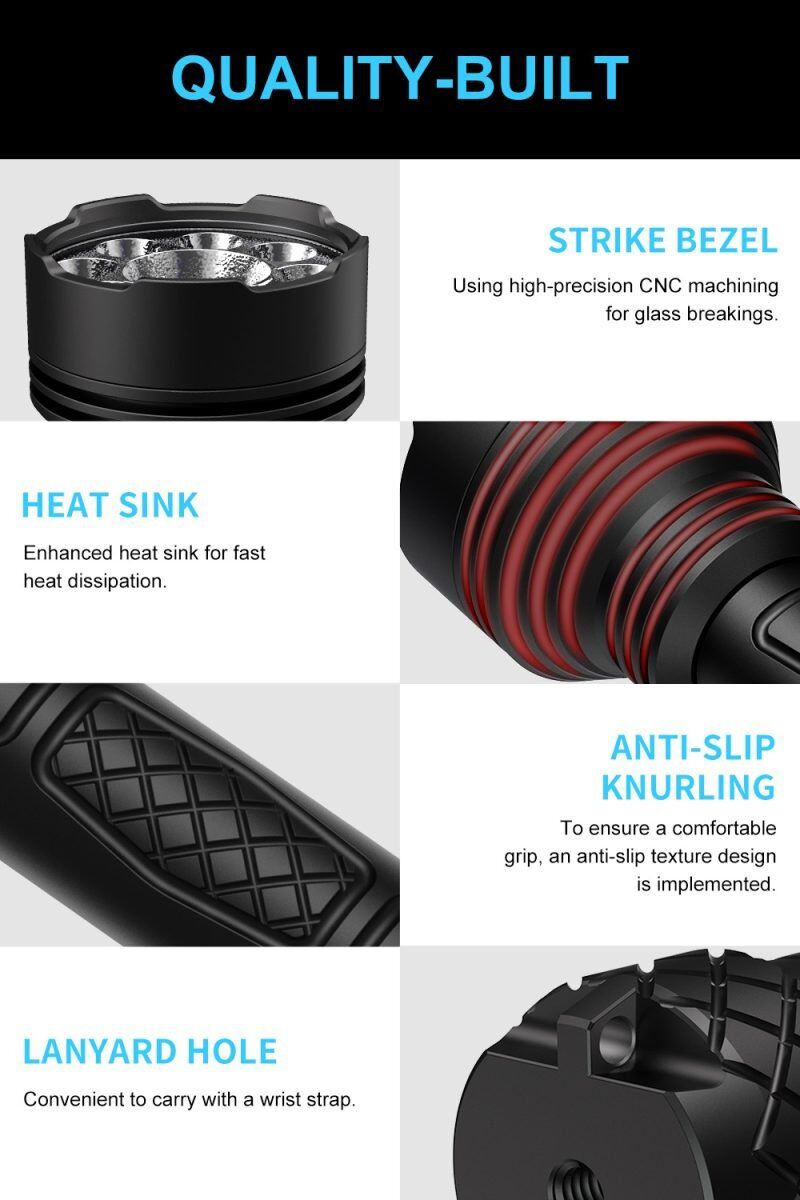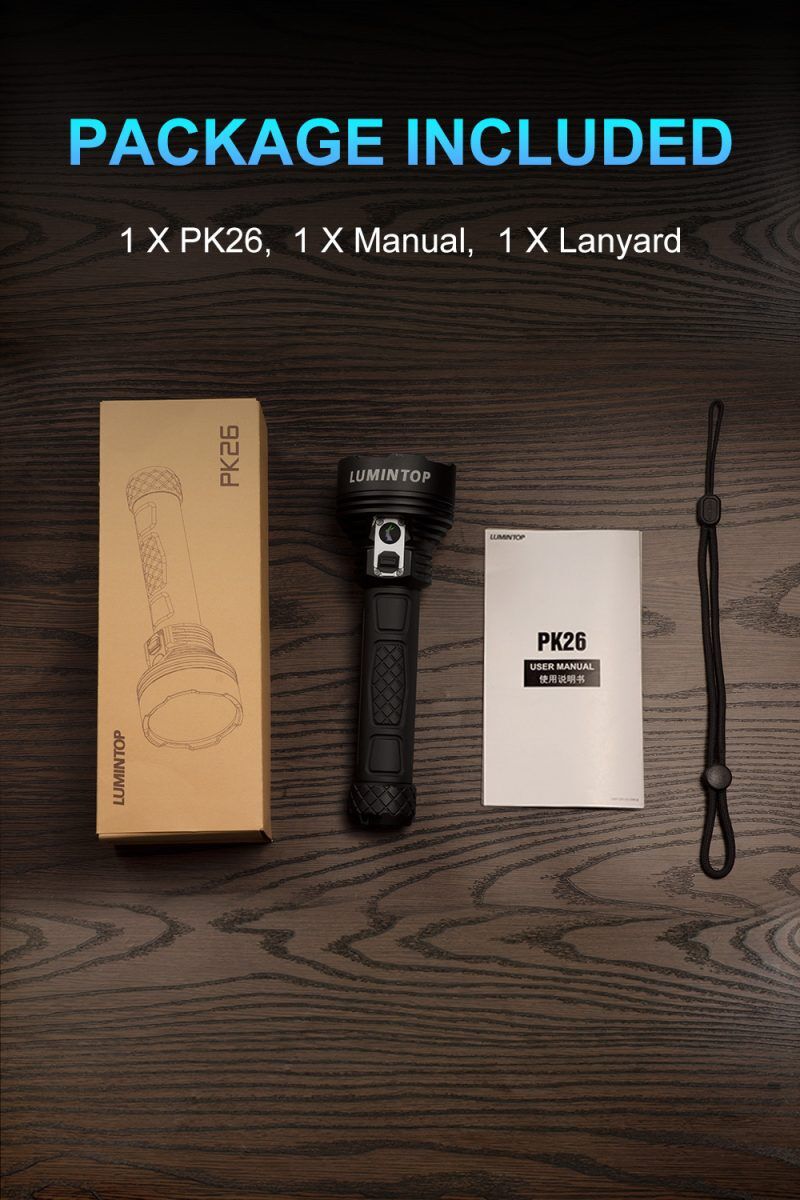 | | |
| --- | --- |
| Battery | 26650 |
| Beam Rang | 501-1000m |
| LED | Cree XHP 70.3 LED, XHP50.2 |
| Lumens Range | >5000 Lumens |
| Material | Aluminum |
| Weight | >200g |
Features
Dual light sources design, 1 X Cree XHP70.3 + 8 X Cree XHP50.2 LED
Max 22000 lumens output and 550 meters beam distance
Five output levels plus extra Strobe, SOS, and Beacon modes
Runs on 2 X 26650 Li-ion batteries, button top, max length 65.5mm
Side switch easy-go operation
Separate push-button for light source shiftings
Electronic lock-out and switch back-lit functions are provided
Built-in Multi Protections
Make of aircraft-grade aluminum with Type-III HA finished
IP68-rated protections, 2 meters submersible
Size: 67*32*203mm
Net weight: ~425g (battery excluded)
Specification
ANSI/NEMA FL1
Moonlight
Low
Med
High
Turbo
Strobe/ SOS/ Beacon
Output
XHP70.3
1
300
750
2800
4000
2800
XHP50.2
1
500
1800
10000
20000
10000
Combo
2
800
2400
12000
22000
12000
Runtime
XHP70.3
30D
18H
7H
60S+6H30M
30S+6H30M
/
XHP50.2
30D
7H
2H 15M
60S+2H
30S+2H
/
Combo
15D
5H
1H 40M
60S+1H30M
30S+1H30M
/
Intensity (Max)
Cree XHP 70.3: 43000cd, Cree XHP 50.2: 52500cd, Combo: 75500cd
Distance (Max)
Cree XHP 70.3: 415m, Cree XHP 50.2: 4580m, Combo: 550m
Impact Resistance
1m
Waterproof
IP68, underwater 2m
Light Source
1 X Cree XHP70 LED + 8 X Cree XHP50 LED
Power
210W (Max)
Battery
2 X 26650 Li-ion, button-top, unprotected, max length 65.5mm (excluded)
Size
67 X 32 X 203mm (Head Ø X Tube Ø X Length)
Net Weight
~425g (Aluminum, battery excluded)
Notice: The above appropriate parameters are lab-tested by using two 26650 Li-ion batteries, it may vary due to the difference in battery types and environments. The runtime on High and Turbo are accumulated due to the over-heat protection setting.
Download
Reviews