IYP25
IYP25 is the dual AA version from the classic and best-selling pen light IYP365. It inherits the classic smooth pen-like shape, while it emits a max up to 500 lumens output by two Alkaline batteries. With the compact size design, you can carry it in your pocket or pack bag almost anywhere you want. Metal tail switch, portable stainless steel clip, IP68 waterproof and dustproof protection, etc., allow it to be your essential EDC flashlight.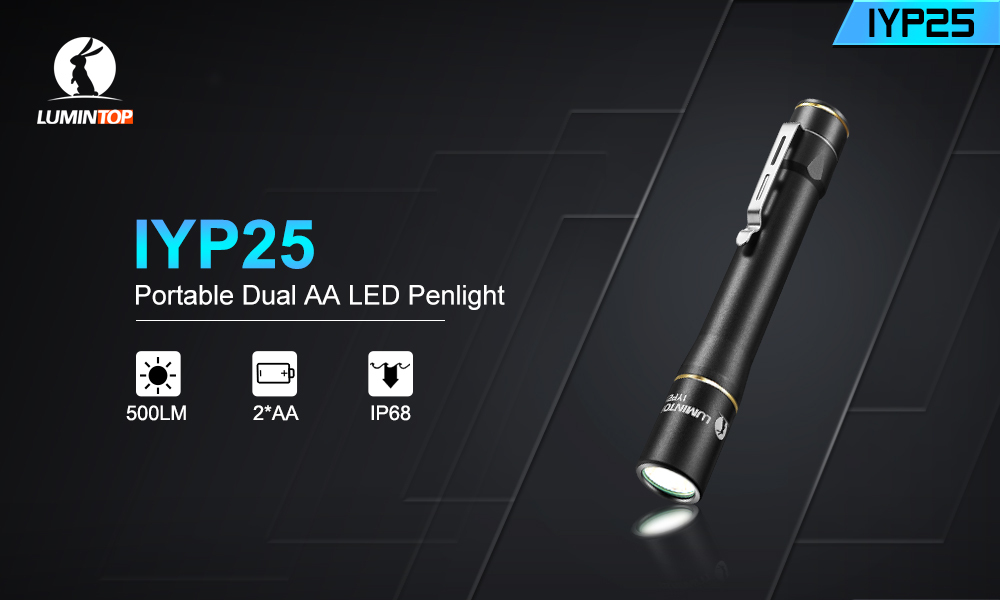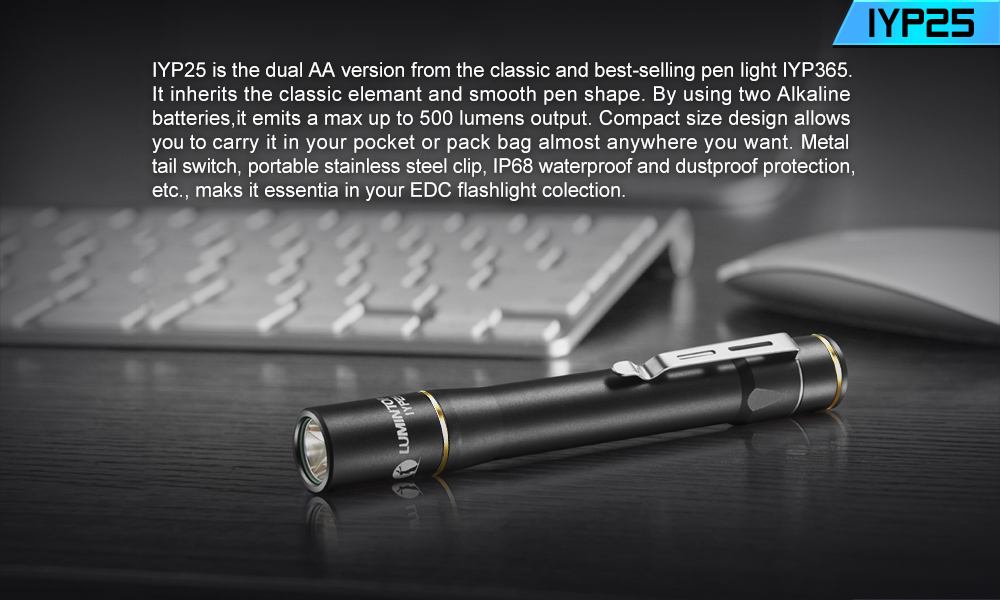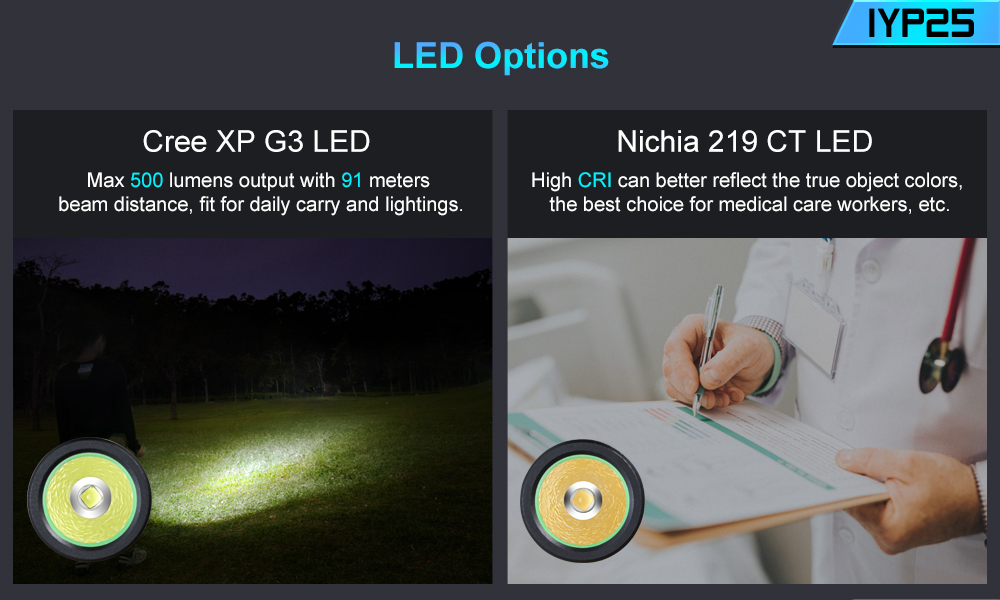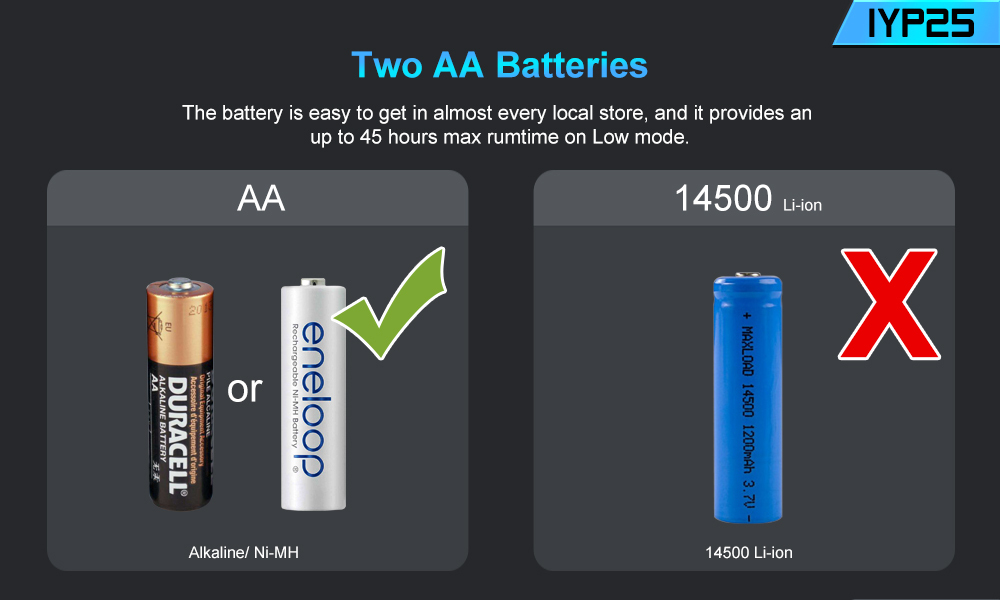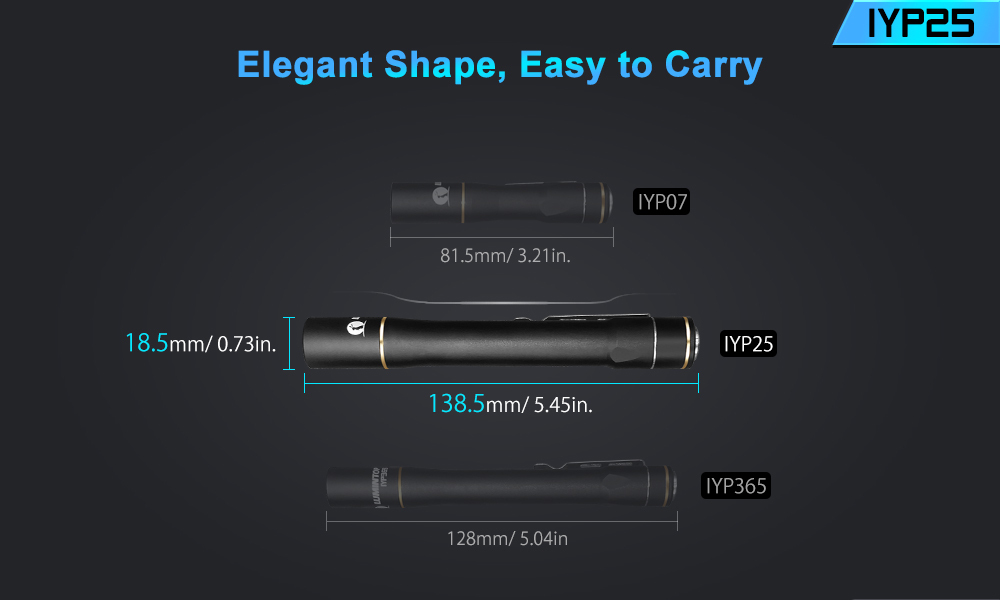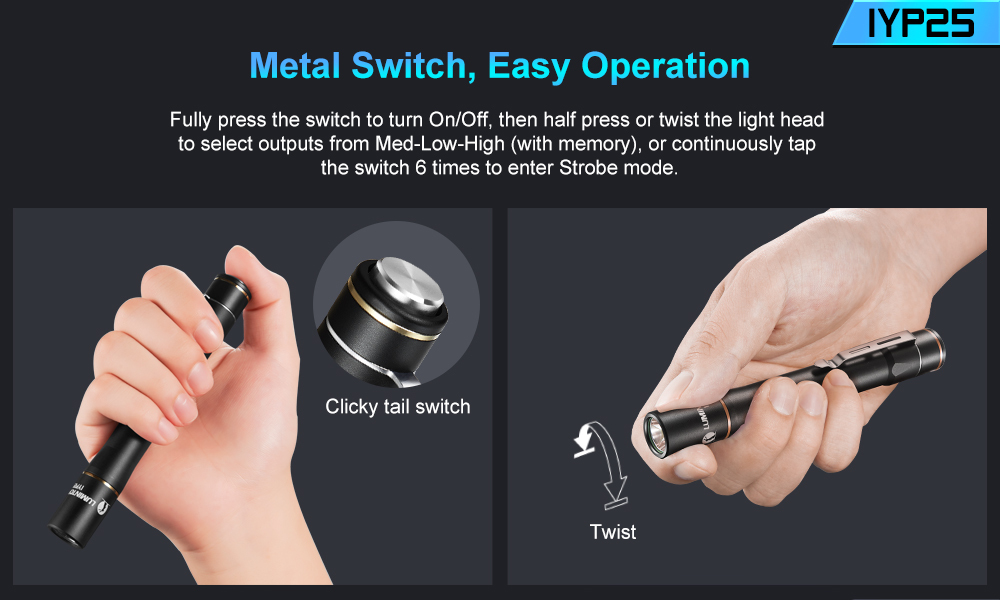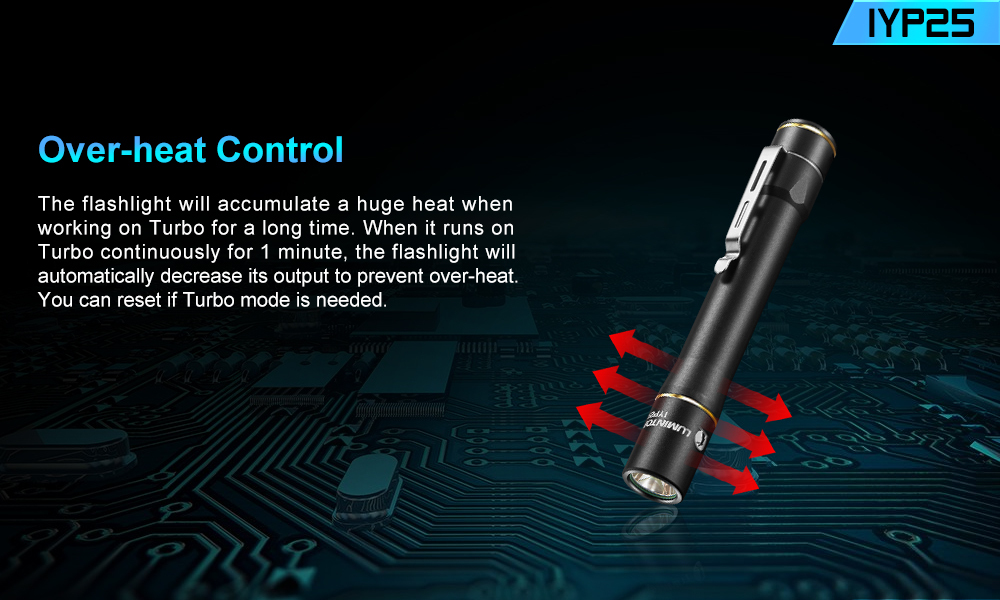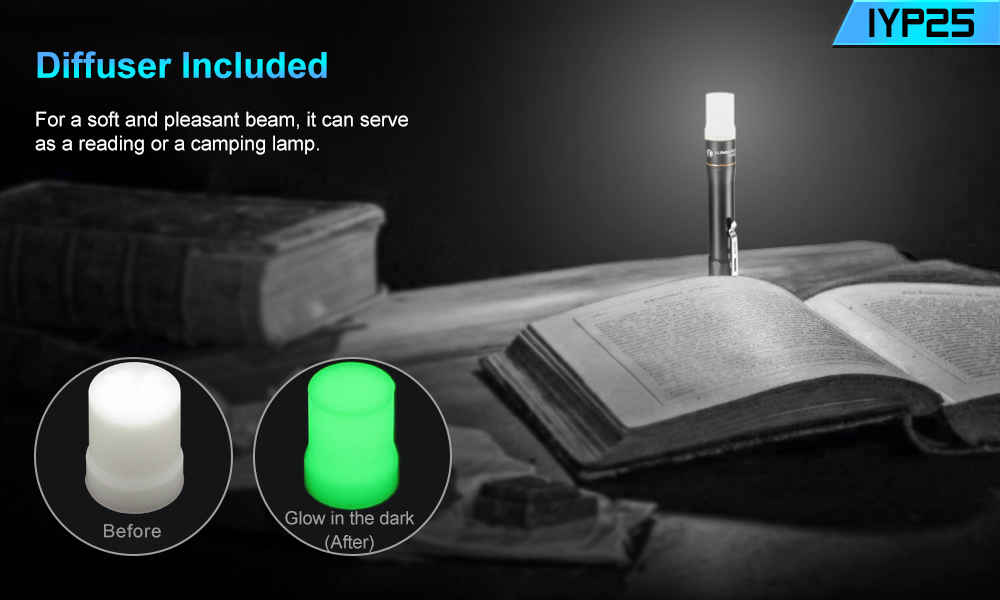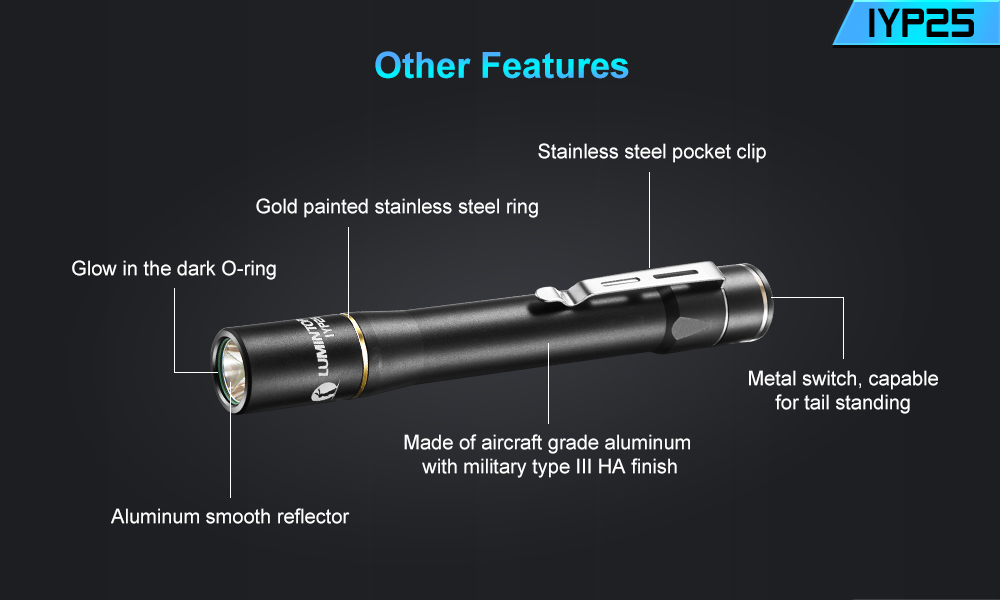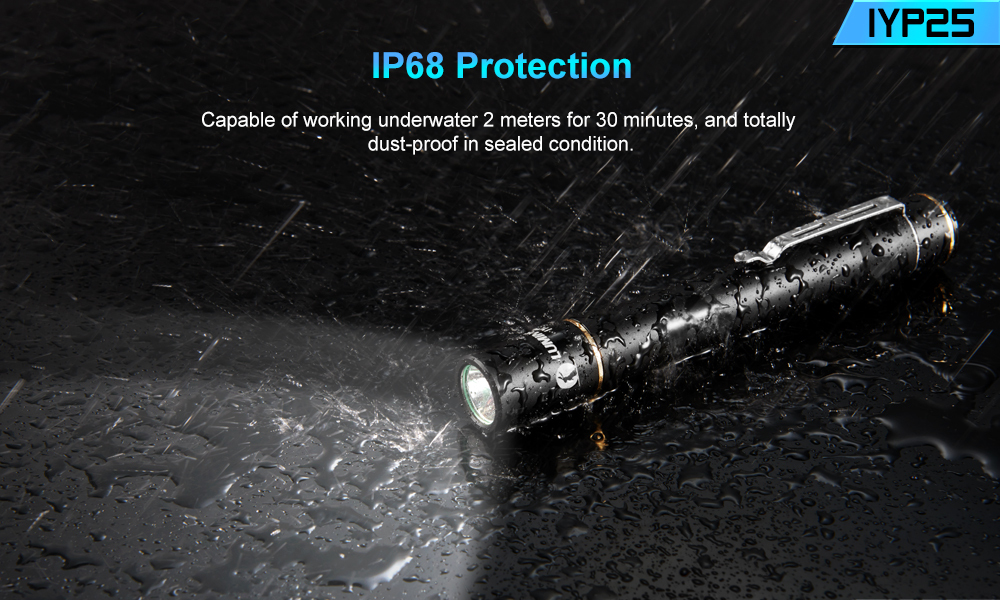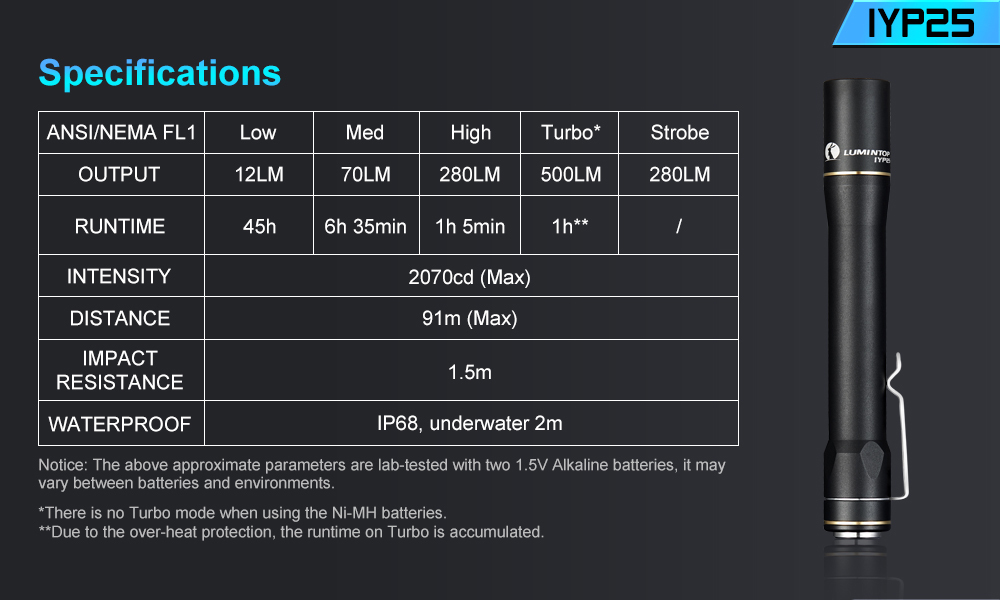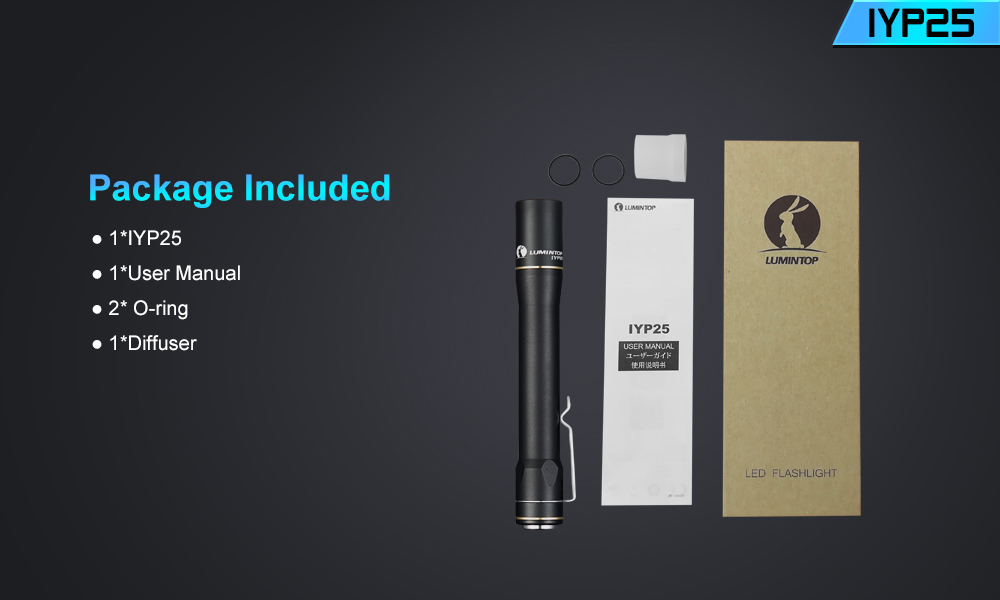 Features
Utilizes Nichia 219C LED (NW) or Cree XP-G3 LED with a lifespan up to 50,000 hours
4 modes with a max 500 lumens output and 45 hours max runtime
Runs on two AA cell, easy get
Intelligent mode memory, recalls the last use mode the next time turn it on
Clicky tail switch for one hand and easy operation
Toughened ultra-clear glass lens with anti-reflective coating
Reverse polarity protection against improper battery installation
Glow in the dark O-ring around the reflector located the flashlight in the dark
Made of aircraft-grade aluminum alloy, type Ⅲ HA anti-abrasive finish, toughened and wear-resistant
Compact design and the included stainless steel clip makes it easy to carry
Size:138.5*18.5mm; Net weight: 35.5g
5 years of free repair, limited lifetime warranty
Accessory: 1*Diffuser, 2* O-ring, 1*User manual and warranty card
Specification
ANSI/NEMA FL1

Low

Med

High

Turbo*

Strobe

OUTPUT

12LM

70LM

280LM

500LM

280LM

RUNTIME

45h

6h 35min

1h 5min

1h**

/

INTENSITY

2070cd (Max)

DISTANCE

91m (Max)

IMPACT RESISTANCE

1.5m

WATERPROOF

IP68 (2m)
Notice: The above approximate parameters are lab-tested with two 1.5V Alkaline batteries, it may vary between flashlights, batteries, and environments.
*There is no Turbo mode when using the Ni-MH batteries.
**Due to the over-heat protection, the runtime on Turbo is accumulated.