Gift-G1
Gift-G1 is one of the most attractable EDC flashlights that ever made for flashaholics. Made of turbo glow material that can last for a long time after absorbing lights, it's dazzling brilliance. Up to 600 lumens output, compatible with both 14500 and AA battery, comes with a cigar ring, tail switch operation, and IPX-8 waterproof, Gift-G1 is an ideal choice for collecting, and a daily EDC.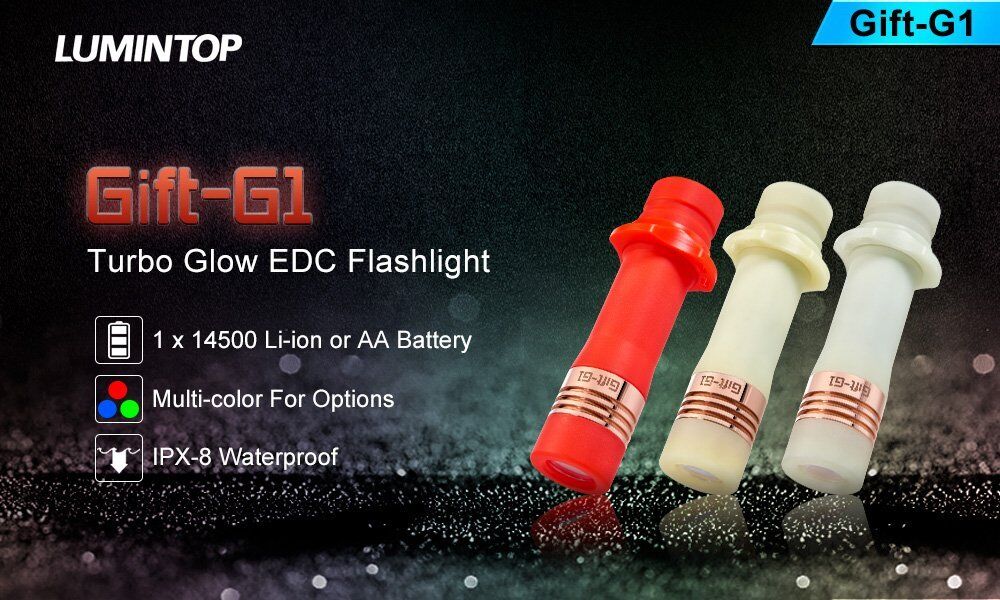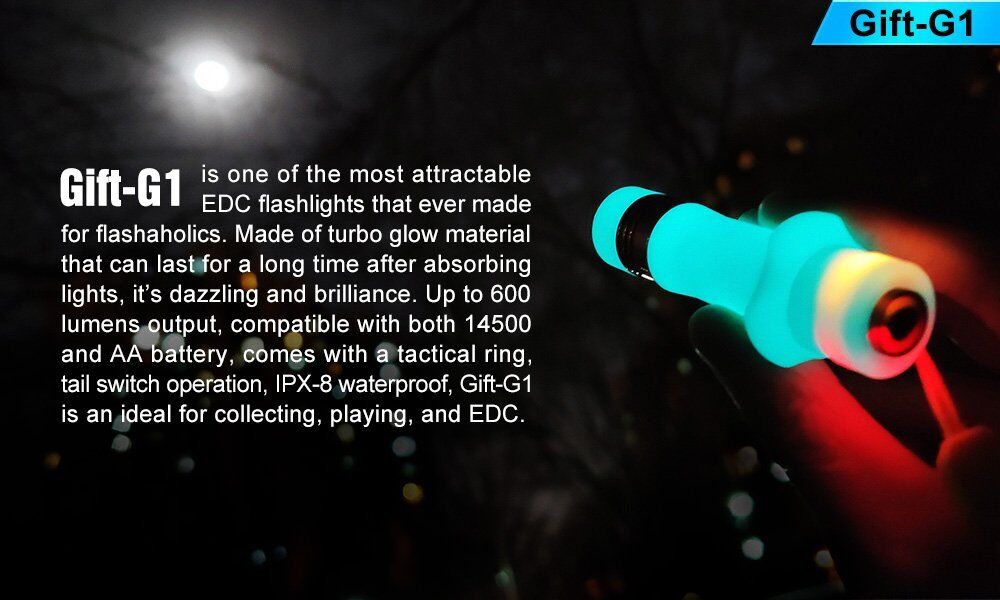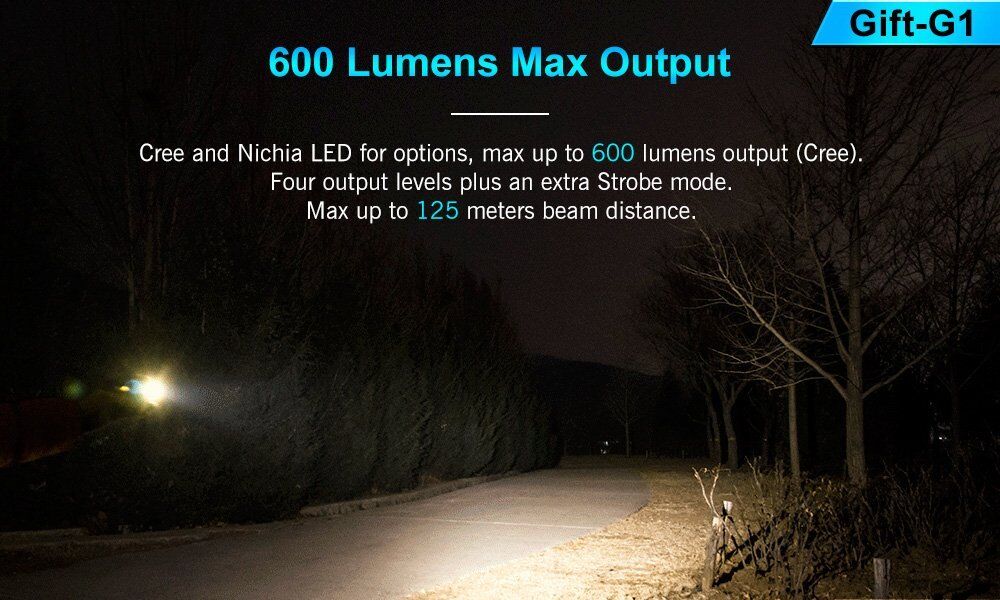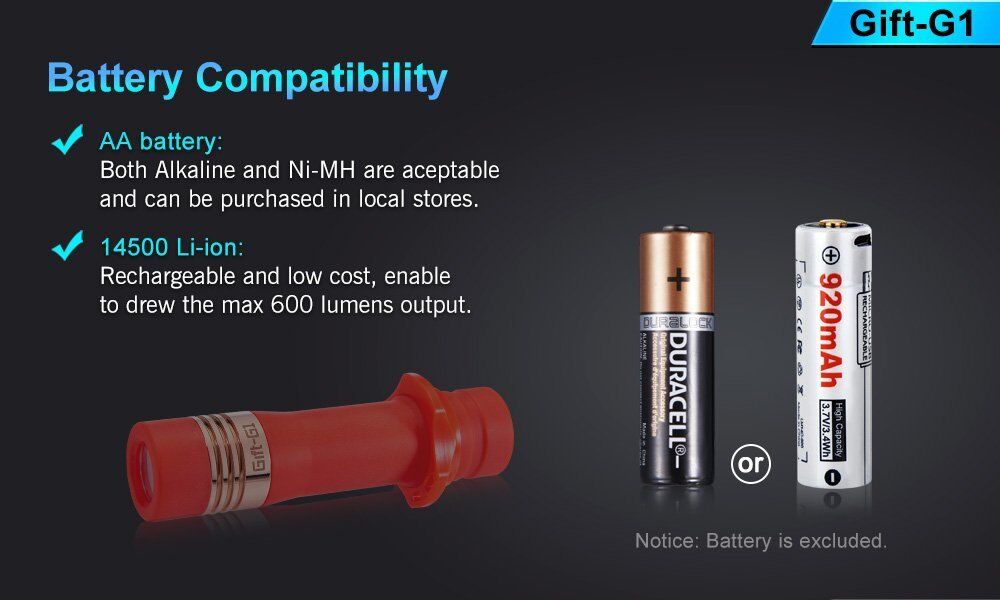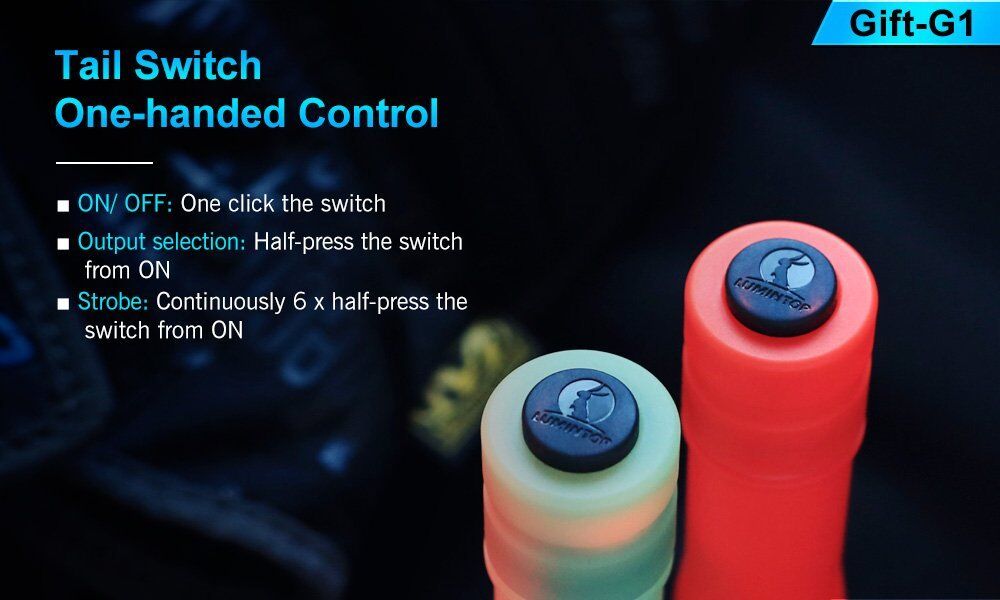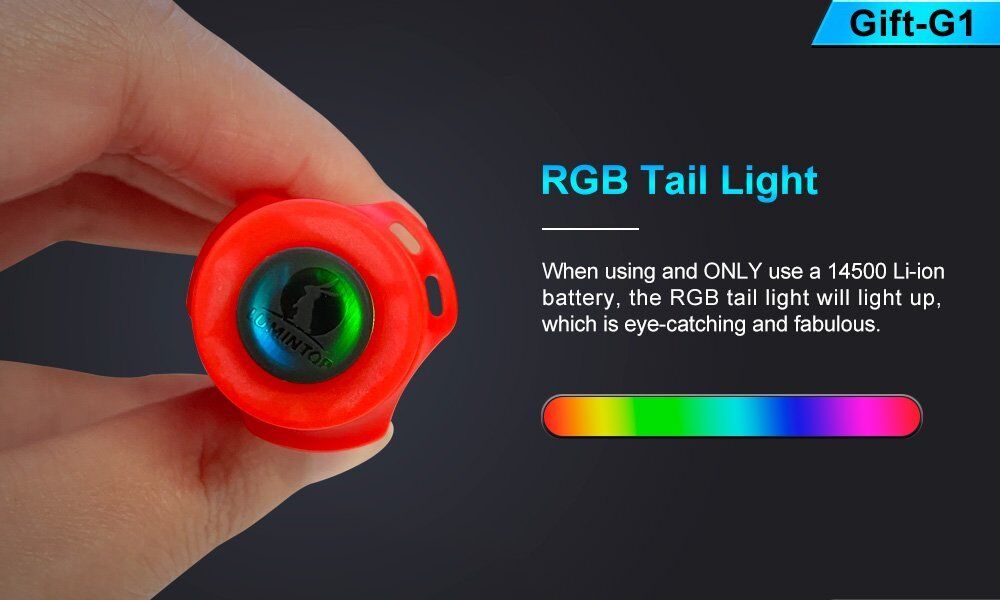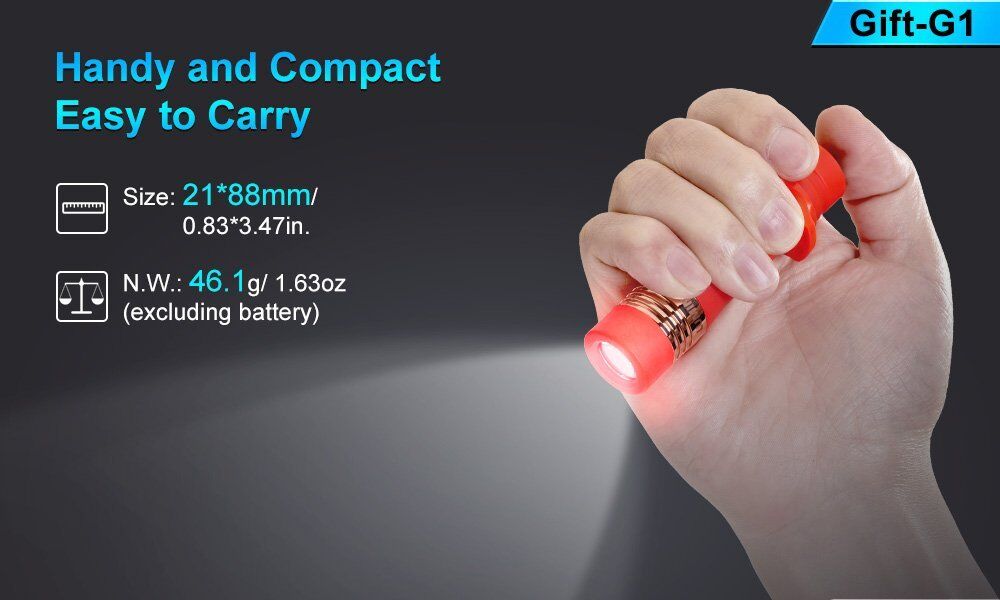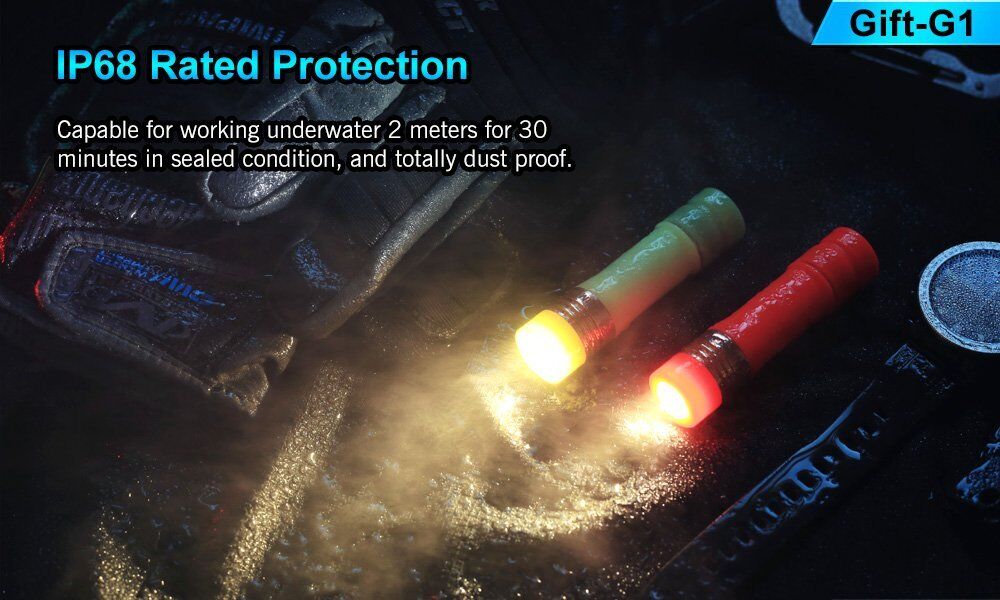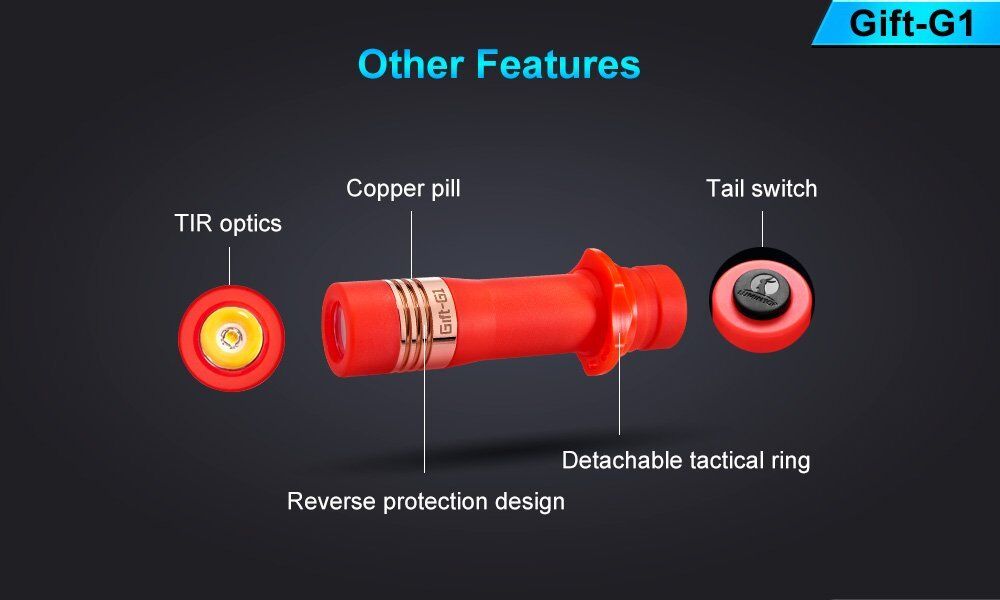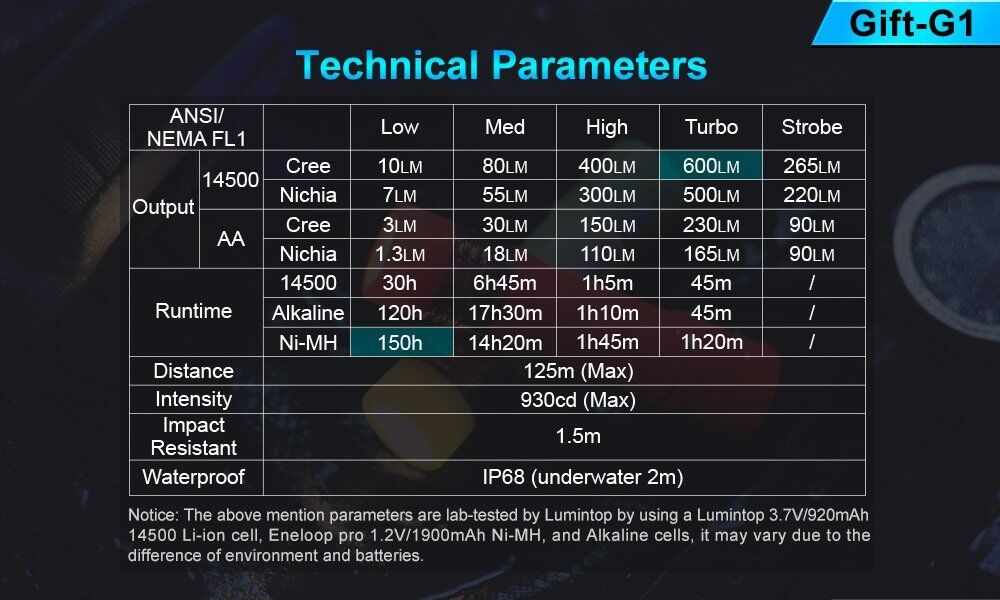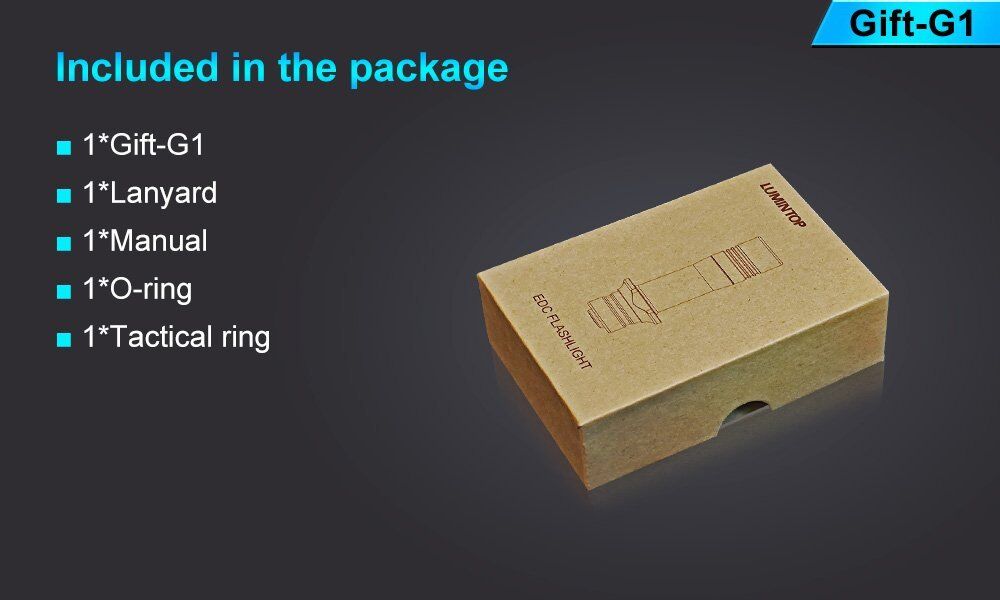 | | |
| --- | --- |
| Battery | 14500, AA |
| Beam Rang | 1-200m |
| LED | Nichia, XP-G3 |
| Lumens Range | 501-1000 Lumens |
| Material | Others |
| Weight | 1-60g |
Features
Utilizes Cree XP-G3 LED (cool white) or Nichia 219C LED (neutral white) with a lifespan of 50,000 hours
Powered by one AA or 14500 rechargeable Li-ion battery (excluded)
Four output levels plus Strobe with max 600 lumens output
Super long runtime up to 150 hours in Low mode
The body is made of turbo glow material with multi-color optional
Standy tail light with multi-colors when using a 14500 Li-ion battery
Reverse protection guard against improper battery installation
Reverse clicky tail switch and detachable tactical ring for easy one-handed operation
Size:21*88mm
N.W.: 46.1g (excluding tactical ring and battery)
IP68 rated dust-proof and waterproof, submersible to 2 meters
5 years free repair, limited lifetime warranty
Specification
ANSI/NEMA FL1
Low
Med
High
Turbo
Strobe
Output
14500
Cree
10 Lumens
80 Lumens
400 Lumens
600 Lumens
265 Lumens
Nichia
7 Lumens
55 Lumens
300 Lumens
500 Lumens
220 Lumens
AA
Cree
3 Lumens
30 Lumens
150 Lumens
230 Lumens
90 Lumens
Nichia
1.3 Lumens
18 Lumens
110 Lumens
165 Lumens
90 Lumens
Runtime
14500
30h
6h 45min
1h 5min
45min
/
Alkaline
120h
17h 30min
1h 10min
45min
/
Ni-MH
150h
14h 20min
1h 45min
1h 20min
/
Distance
125m (Max)
Intensity
930cd (Max)
Impact Resistant
1.5m
Waterproof
IP68 (underwater 2m)
Notice: The above mention parameters are lab-tested by Lumintop by using a Lumintop 3.7V/920mAh 14500 Li-ion cell, Eneloop pro 1.2V/1900mAh Ni-MH, and Alkaline cells, it may vary due to the difference of environment and batteries.
Download
Reviews